Danylo Halytsky Lviv State Medical University
About Danylo Halytsky Lviv State Medical University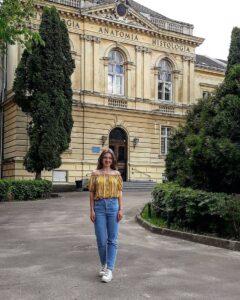 Danylo Halytsky Lviv National Medical University is one of the leading medical university in Ukraine having the 4th level of accreditation affiliated with the Ministry of Health of Ukraine. Lviv National Medical University is named after Danylo Halytsky
On November 16th 1784, University of Lviv was restored with 4 faculties. In 2018, the Danylo Halytsky is awarded as Grand Prix "Leader of International Activities" and also got a Gold Medal in the constitution of "Implementations of Innovations in the pedagogical process for improving the quality of graduates knowledge".
The council of a young scientist of university brings together scientific and pedagogical workers of a certain age category. This include graduate intern, graduates, postgraduates, clinical intern, candidates in medical sciences, assistant professor, associate professors.
Admission to Danylo Halytsky Lviv State Medical University Ukraine happens in 3 Easy Steps:
Application You can fill Online Application Form to apply for a seat in  Danylo Halytsky Lviv State Medical University. Start by choosing a course you need to send in following documents, by E Mail.

Filled Application Form
Copy of Passport
Copy of Higher Secondary School Certificate

After review of documents, you will receive Admission Confirmation Letter in 1 working day and Invitation Letter in 3 Working Day.

VISA Scroll down further for details of visa requirements.
Arrival After getting your visa, you will need to inform  Danylo Halytsky Lviv State Medical University about your flight plans. A representative from Danylo Halytsky Lviv State Medical University will meet you at the Airport.
Pinnacle Abroad Studies has a team specialized on VISA application preparation. Generally, the Ukrainian student visa is through an interview at the embassy. The embassy is in New Delhi. Student has to travel and stay for 2 days in Delhi for the process. The success ratio of Pinnacle Abroad Studies is 100% for Ukraine student Visa. There are lots of documents required for Ukraine student visa application as follows: